Business Income Tax Returns are Due March 15th, 2022!
File an extension in minutes with ExpressExtension!

|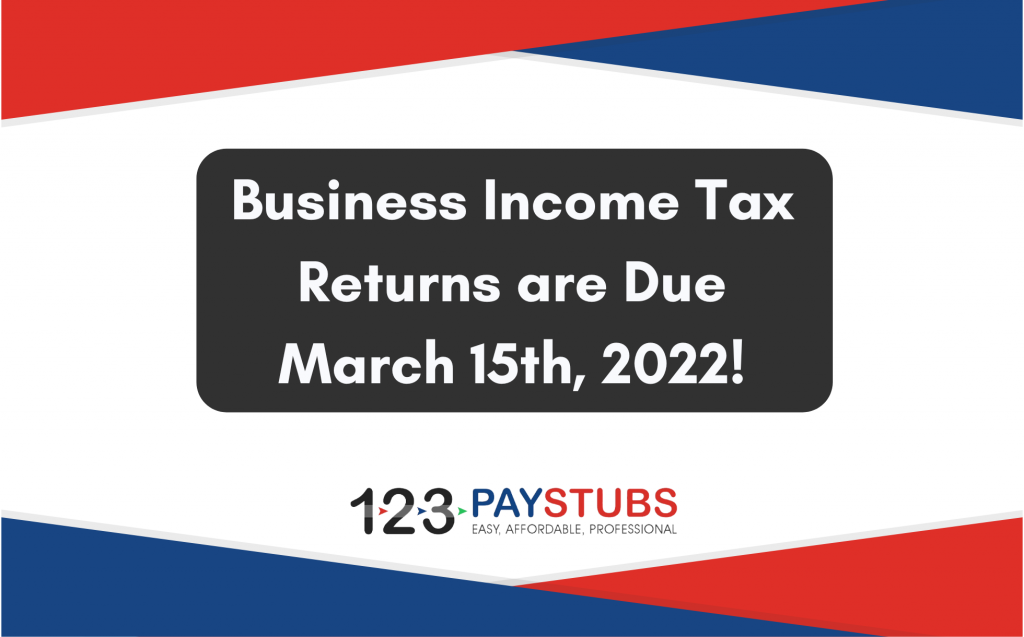 The deadline to file your business income tax return is TODAY! As you may know, many types of businesses must file their income tax returns by March 15, 2022. Most common among these are partnerships filing Form 1056 and S-corporations filing Form 1120-S.
If meeting this deadline comfortably seems like a long shot for your business, don't worry, it's not too late to file a Business Income Tax Extension Form 7004. This is an automatic extension meaning the IRS doesn't require any explanation, just an accurate form filed by your original deadline. For many businesses, this deadline is March 15, 2022.
ExpressExtension, 123PayStubs' sister product, can help you e-file Form 7004 simply and securely. Today is your last chance to file an extension!
What is Form 7004?
The Form 7004, Application for Automatic Extension of Time to File Certain Business Income Tax, Information, and Other Returns, with the IRS, is exactly what it sounds like. This is an automatic extension that allows businesses, including your partnership, to apply for up to an additional six months to file their tax returns.
Businesses Types that can file Form 7004
Form 7004 applies to business entities that are required to pay business income taxes and file an information return to the IRS. Some of these business types include:
What Business Tax Forms can be Extended?
Form 7004 can be applied to many different tax forms, but here are a few of the most common ones:
What information do I need to file Form 7004?

Filing Form 7004 is pretty simple! You only need your basic business information to complete this form and get your extension. Be sure to have the following information available when you sit down to file:
Your legal name
The name of your business
The EIN
The business address
Your estimated tax payment
E-filing Your 2021 Form 7004
Now, when it comes to filing, filing Form 7004 electronically will save you time and you will know instantly that your extension form made it to the IRS. Plus, you will receive updates. If your Form 7004 is rejected, you can easily correct the error and retransmit at no additional cost.
For the ultimate stress-free filing experience, avoid IRS penalties today by E-filing Form 7004 with ExpressExtension. Create your free ExpressExtension account and get started filing today!
Want to know how to e-file 2021 Form 7004 using ExpressExtension? Watch this video to see the e-filing process in action!