4 Reasons Why An Online Paystub Generator Will Benefit Your Business
Simplify your life with an online paystub generator.

|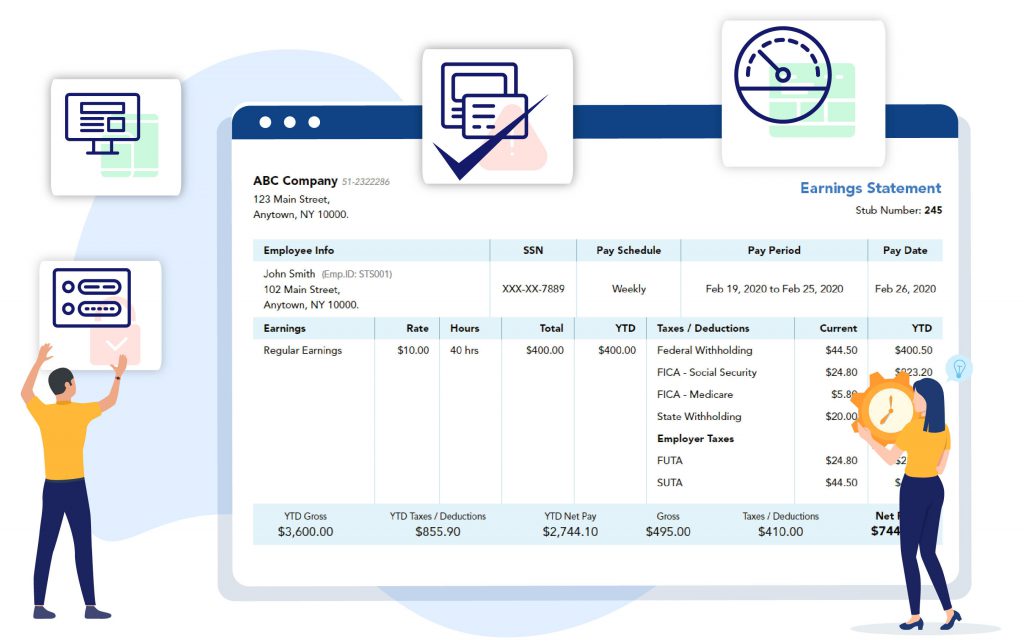 As a small business owner, you will come to understand the difference between being busy versus being productive. Spending four hours to do payroll speaks to the former. Payroll is a necessary step of your business but using your time to grow your business is more valuable. With 123PayStubs, you will be able to quickly process your payroll by efficiently generating pay stubs so you can get back to your business.
1) It's Error Free
Without a paystub generator, you will not need to calculate wages and hours worked, track the Year-to-Date (YTD) totals, but you will also need to account for taxes and deductions: FICA, Social Security, and Medicare. Then there are federal and state withholdings.
In some states, the amount you withhold for state taxes differs by zip code. Instead of spending your time figuring out if you need to use your home address or work address to figure out the right amount, use 123PayStubs. We can do this for you.
Not only will we calculate all of these totals for you instantly, but they will be accurate and error-free.
2) It's Easy to Use
Whether you choose to do your payroll from the comfort of your desk with a cup of coffee or if you need to do it on the run with your mobile device, the results will be the same. You will be able to generate a pay stub in under two minutes.
Fill out your company's information along with the employee's, choose a template, and you'll be able to preview your accurate and professional-looking paystub in minutes.
3) Saves You Time and Money
Your time is valuable and it is a non-renewable resource. Due to how easy our pay stub generator is, you will have time to reinvest into growing and developing your business.
123PayStubs will not only save you time, it will save you money. Because we want you to see how easy and efficient our paystub generator is, we will let you try it for free.
4) Ideal for Record Keeping
123PayStubs becomes an easy and convenient way to track everyone's YTD earnings. When you give each employee their pay stubs, they will be able to see their YTD gross earnings (the money they've earned before taxes and deductions have been withheld), their YTD totals for taxes and deductions, and their YTD net income (the money they've made after taxes and deductions have been withheld).
All of these details, the ones you will be passing onto your employees, are done for you. In addition to their YTD totals, they can see the amounts specific to the pay stub you are creating.
If you are in business for yourself, in which case you could be called both the employer and employee, you will need this documentation especially if you plan on buying a home. Your bank account details will not suffice when trying to secure a loan. During the underwriting process, you will be required to show your pay stubs to prove your income. 123PayStubs is invaluable for all your record-keeping needs.
Try 123PayStubs today!