Benefits of Filing Form 941 With 123PayStubs
E-filing with 123PayStubs is simple, quick, and accurate

|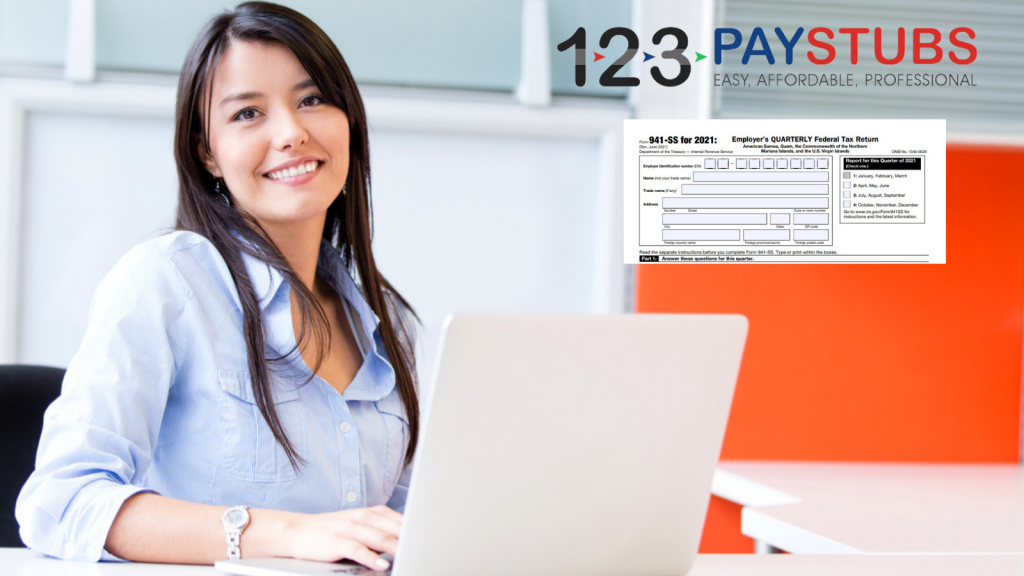 Filing your taxes is one of those things most people dread, a lot. Filing taxes can be time-consuming, confusing, and filing them incorrectly can be costly. As a result, many people are choosing to file online. Filing taxes online, or e-filing, is a much easier, quicker, and more accurate option.
123PayStubs is the perfect option for e-filing! 123PayStubs is an online paystub generator that employers or sole proprietors can use to generate professional pay stubs and file important tax forms. 123PayStubs helps business owners meet their IRS quarterly filing requirements for items such as Federal Form 941. 
The August 02, 2021, second-quarter filing deadline for Form 941 is quickly approaching. But, no worries! 123PayStubs is here to help make your e-filing process as simple as can be. 
What is Form 941?
Form 941 is the Employer's Quarterly Federal Tax Return. This form is filed by employers that pay employees wages that are subject to income tax, Social Security tax, and Medicare taxes. 
Why You Should File Form 941 with 123PayStubs
There are several advantages to not only e-filing but also filing with 123PayStubs. When you file Form 941 with 123PayStubs, you'll get to take advantage of several compelling features listed below:
IRS-Authorized 941 E-file Provider
This means that 123PayStubs is an accepted business that can participate in electronic filing for the IRS. 123PayStubs is a reputable and approved tax filing service that will help you file Form 941 with ease.
The IRS is constantly making revisions and changing required information for tax forms. 123PayStubs will always keep track of these revisions and provide you with the most updated forms. We support the updated Form 941 for 2021. 
Instant IRS Filing Status
Everything processes faster when you file online. 123PayStubs' easy-to-use dashboard and filing process makes filing Form 941 as simple, quick, and straightforward as it gets.
Completing and submitting your form online also means that the information gets passed on the back-end faster. As soon as you finish filling out the necessary information for your 941 and submit it, it is sent directly to the IRS immediately. You will also likely receive your refund faster because you won't have to make a trip to the post office and wait on mailing time.
Accurate Tax Calculations
Our paystub generator accurately calculates your Federal and State taxes, including Social Security and Medicare taxes. Form 941 is a federal tax that you must submit quarterly. You must fill out these forms correctly in order for them to be accepted. 
Filing online with 123PayStubs ensures that, as long as the information you input is accurate, the forms sent to the IRS will be accurate.
Built-In-Error Check
As mentioned previously, it is important to make sure you entered the correct information when filing Form 941. That is why 123PayStubs has a built-in error check so you can review your work and make any corrections before filing. We offer unlimited corrections at no additional cost. 
123PayStubs also has a 100% U.S.-based support team that is there to help you and answer any questions you may have in the process of filing your 941. 
Download and Print Forms
After completing your Form 941, you can download and print it instantly. It is beneficial to keep a record of all your tax forms for at least 7 years for security purposes. E-filing with 123PayStubs allows you to easily keep track of these forms and store them securely online or on paper. You also have the ability to access any documents or account information when necessary. 
Affordable Pricing
With 123PayStubs, you can access all these great features at the best price. The cost for e-filing Form 941 with 123PayStubs is $5.99 per form. That is an unbeatable market price you won't want to miss out on. 
Get Started with 123PayStubs Today
123PayStubs is a trusted source for small business owners and self-employed individuals. When you use 123PayStubs, stressing over filing your tax forms is an issue of the past! Ready to file your 941 online? It's simple, quick, and accurate.

E-file Form 941 with 123PayStubs and get instant notifications from the IRS.