Customizable Paystub Templates Make Your Payroll Process Simple!
Create accurate and professional pay stubs with 123PayStubs!

|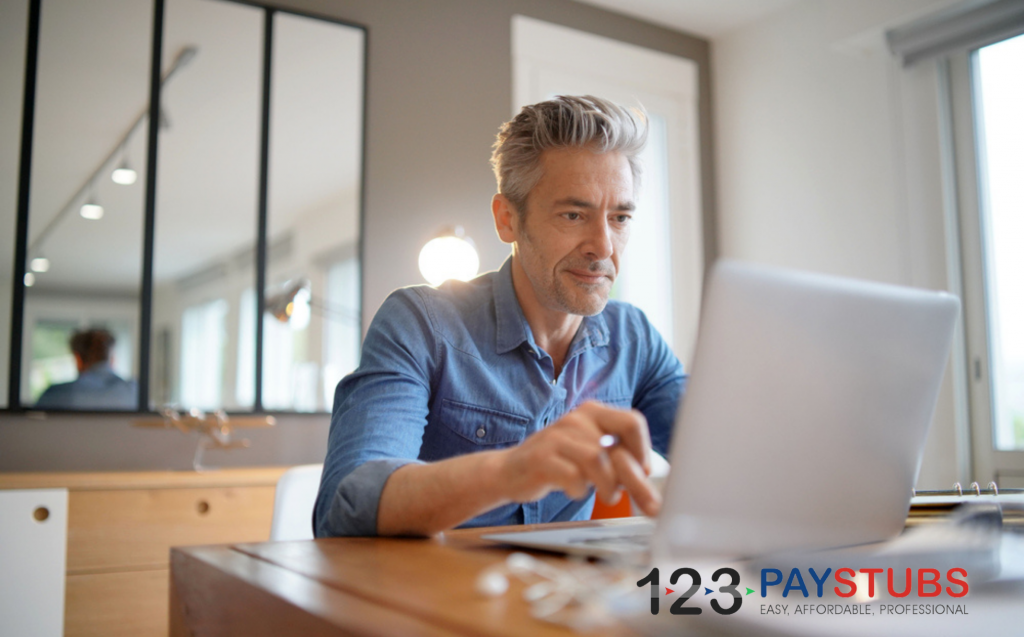 Paystubs are important documents for your employees and contractors. However, creating them manually can be time-consuming and leave room for errors. Using pay stub templates and creating your pay stubs online can make the process much easier.
With 123PayStubs, there is no need to stress over designing your own paystub templates. 123PayStubs offers a wide variety of templates to cater to the unique needs of your business. Our online pay stub generator will also ensure the paystubs you are creating are professional and accurate. Here are some of the benefits of using 123PayStubs as your online paystub generator:
Makes the Process Simple
When you create pay stubs with 123PayStubs, the process is quick and simple. After you've chosen a template and customized it to fit all of your needs, you can easily generate your paystubs and issue them to your employees. 123PayStubs allows you to download, print, or email paystubs directly to your employees/contractors.
Having pre-made pay stub templates that you can just simply input the necessary information into makes creating your pay stubs straightforward and easy. Not to mention, 123PayStubs' templates are completely free.
Professional
The paystubs you issue to your employees or contractors should be professional and reflect your business. 123PayStubs has a collection of professional paystub templates to choose from. After you've selected a template all you need to do is input the necessary information and all of the tax calculations will be handled for you automatically.
Using a pay stub template will help eliminate human error and ensure all of the necessary information is included on your paystubs. You can also personalize your paystub templates on 123PayStubs by adding your company logo. 
Customizable
With 123PayStubs, you can customize your paystub templates with various information. Depending on which information you want to include on your template, you can add year-to-date values, FUTA, SUTA, and any additional earnings and deductions necessary. 123PayStubs also gives employers the flexibility to choose different templates for each of their employees or contractors. 
By having a customized pay stub template, you can include all the pertinent information that will help your employees and your records as well.
Record-Keeping
Once you've customized your pay stub template to your liking, you can save this template and use it for all of your future pay stubs. Being able to continually use this pay stub template will make creating future pay stubs easier and more convenient.
Your pay stubs will also be stored securely in your account and can be accessed at any time. If you are using the same pay stub template for all of your payrolls, it will be easy to compare month-to-month records.
123PayStubs
Creating paystubs with us is easy as 1 2 3! Just follow these 3 simple steps to create professional and accurate paystubs with 123PayStubs:
Enter the information
Preview your template and make any necessary changes
Download your paystubs and send them directly to your workers