Tax Day is Today! File Forms 7004 and 4868 to Extend your Business and Personal Tax Deadline.
You can still file an extension until midnight!

|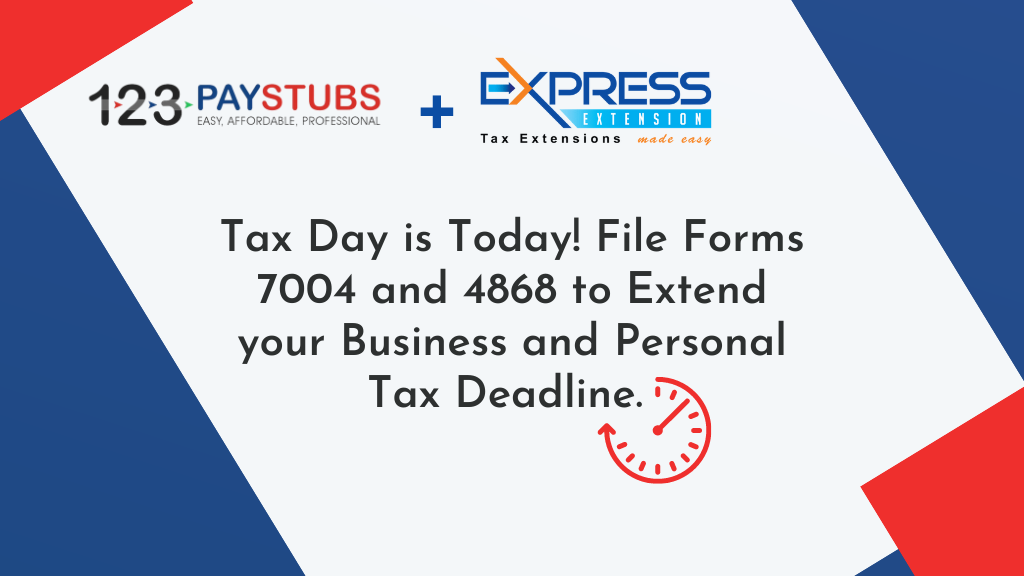 It's April 18th! It's "tax day", which means today is the deadline for filing many income tax returns, including Personal income tax return 1040 and Business Tax Form 1120 (C-Corporation Tax Return), Form 1041 (Trusts and Estates Tax Form), and certain other business tax returns.
There is no need to panic if you haven't prepared your tax returns yet, you still have the option to request an extension. Though the extension does not apply to tax payments, it still gives you that additional time to prepare and file your personal and business tax returns, extending your deadline to October 16, 2023.
Extension for Personal Tax Return
You can request an extension of time to file your personal tax return 1040 by filing Form 4868 on or before the original deadline, i.e., midnight today.
There are two things that you need to ensure while filing Form 4868. First, the form must provide accurate information. For example, the SSN and Address you enter on your 4868 should match what the IRS has in its database. Second, the extension form must be filed on time.
Here is the information that needs to be reported on your Form 4868,
Your personal details – Name, SSN and Address
Your spouse's basic details (if filing a joint return)
Details about the taxes due to the IRS (if any)
Remember, this extension is automatic, and the IRS doesn't require you to provide any reason or explanation for requesting more time.
Business Tax Extension
If you need more time to file your business tax returns, you can file Form 7004 before midnight today and get up to 6 months of extension.
The information needed to file Form 7004 includes,
Basic business details – Name, EIN and Address
Tax year followed by your business
The tax form for which you are requesting an extension
Details about the taxes due to the IRS (if any)
This extension is also automatic, and there is no need to provide an explanation for requesting more time to file your business tax returns. Just file Form 7004 with accurate information on time, and it's done.
Streamline your Extension Filing with ExpressExtension!
Our sister product, ExpressExtension, is an IRS-authorized e-file provider that allows you to complete and e-file your IRS Tax extensions with maximum ease and perfection!
As a SOC-2 certified provider, ExpressExtension ensures that your personal and business data is secure.
You can file your extension forms in minutes and receive instant updates on the IRS status of your forms. With the Express Guarantee offered by ExpressExtension, you can get an automatic refund of your filing fee if the IRS rejects your Form 7004 or 4868 as a duplicate return.