This Time-Off Feature Is One of A Kind
Stay compliant with our one-of-a-kind pay stub generator.

|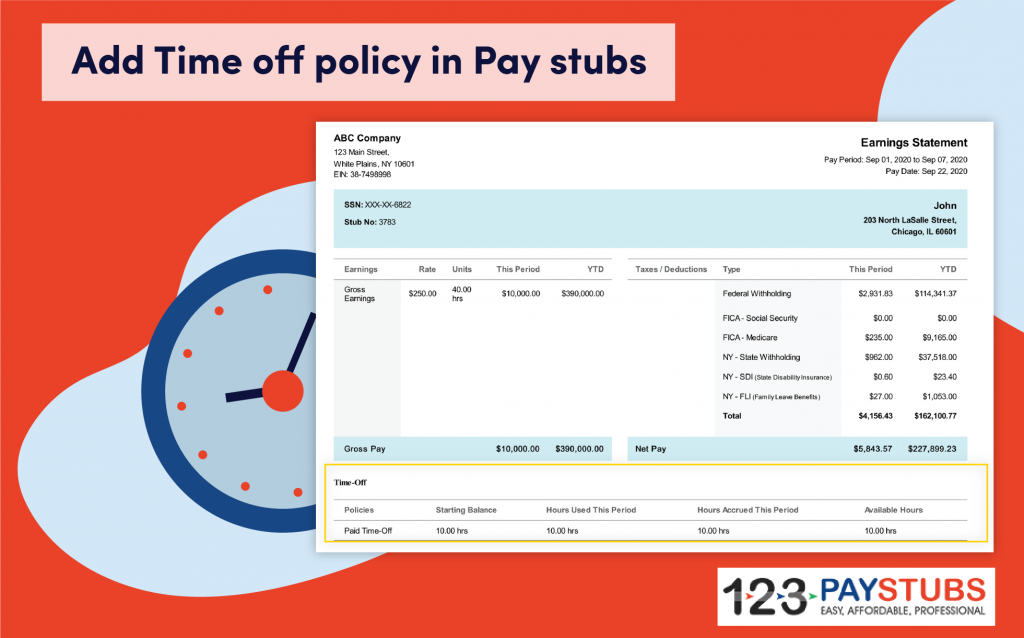 The kind of information that needs to be displayed on your pay stubs differs by state. Although there are only nine states who do not have any requirements, there are several states that are adding to what you need to document. For instance, adding the total amount of time off accrued might be something you need to add to your pay stubs.
Time Off
As an employer, there are several decisions you need to make regarding your business. Deciding on your time-off policies is one of those things. Maybe you choose to give an allotted amount, or perhaps your employees build or accumulate time.
Regardless of how you choose to offer this benefit to your employees, you will need to document this in some way on your pay stubs. This can be done simply by displaying how many days/hours they have remaining. The unit of measure (days or hours) will likely be derived from how your employees accrue time. This includes sick time, paid time off, and vacation time.
The Right Pay Stub Generator
If you have chosen 123PayStubs as your paystub generator, then you will have a very easy time of adding in your employees' available time off. To stay ahead of the employers' business needs, 123PayStubs now has a feature that allows them to do this.
123PayStub is the only online pay stub generator with the ability to do this. If you are an employer who lives in a state where you are required to document time off, then 123PayStubs will be a big help to your compliance needs.
How To Add Time-Off In 123PayStubs
When you are creating a pay stub for your employee, opt for the Time-Off Policy add on. After you've opted for the add on, you can have any number of time-off policies. 123PayStubs caters to you; you do not have to cater to it. There's ample room for employers to create their own policies and have them recorded accurately.
You will have the ability to show starting balance, ending balance, how much time has been used, and how much time has been accrued during a specific period of time. And just like your taxes, 123PayStub will do the time-off calculations based on the information you've provided.
Adding a Policy
After signing into your account, enter the company and employee information. There will be an add-on option of Time-Off Policies. If you don't need or want to add this, then you don't have to. If you need or desire to, then you will have the ability to. From there, enter the following:
Policy
Starting Balance
Hours Used
Hours Accrued
123PayStubs will take the information and calculate the balance for you. Once you have entered the wage earned and hit "Calculate," 123PayStubs will generate your pay stub. You can either download the pay stub or send it directly to the employee.
123PayStubs
123PayStubs offers everything you need with nothing you don't. If you have found yourself looking for a way to document time-off hours to stay compliant, then 123PayStubs is here to help.
Try 123PayStubs Today!