An Essential Guide for Creating Pay Stubs Online
Create professional pay stubs with 123PayStubs!

|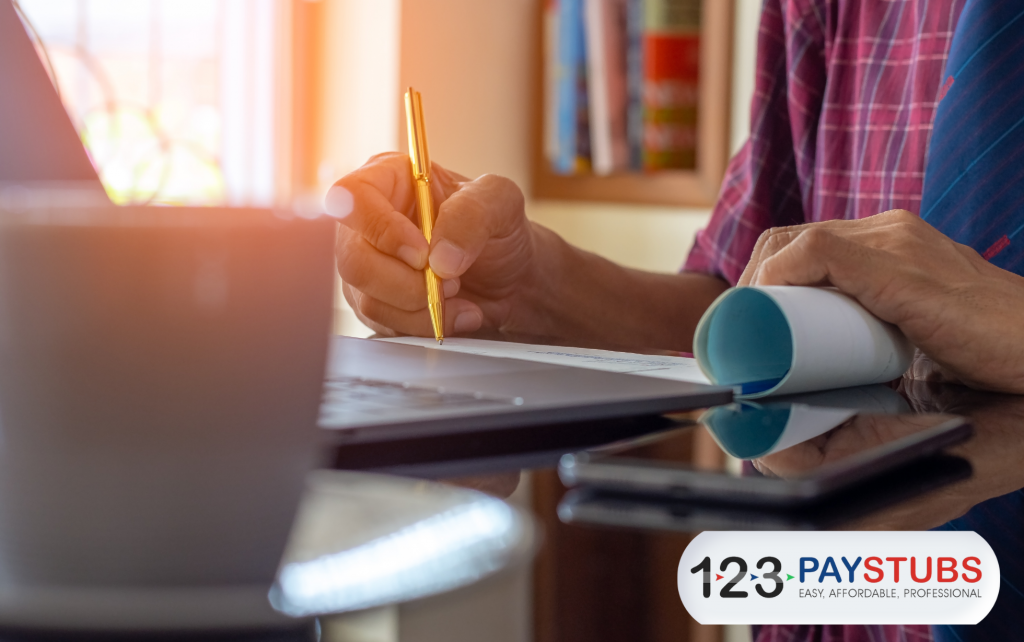 As a business owner, your time is precious. With so many tasks on your plate, providing your employees with pay stubs may just feel like another time-consuming task you have to add to your to-do list. But, as we mentioned above, pay stubs are essential documents for you and your employees. Luckily, there are more convenient ways for creating pay stubs than doing it manually. When it comes to creating pay stubs effectively and efficiently, an online pay stub generator is your answer.
If you are handling payroll on your own, using an online paystub generator can help you create professional pay stubs quickly and easily. Creating your pay stubs online with a pay stub generator such as 123PayStubs will ensure that you are providing quality and error-free pay stubs to your employees.
Follow this guide to create professional and accurate pay stubs in minutes with 123PayStubs:
Choose a Pay Stub Template
123PayStubs has several sleek and professional pay stub templates for you to choose from. 123PayStubs' templates are completely customizable and you can create templates that fit the exact needs of your business. Once you've created a template, you can use the template for all future pay stubs, ultimately saving you time and effort.
With 123PayStubs you can include/or not include information on your pay stubs such as last year-to-date values, additional income and deductions, and FUTA and SUTA if required. Trying to configure all of this information into someone's pay stub manually can be very confusing and time-consuming. However, adding this additional information onto someone's pay stub is simple when you use 123PayStubs.
Fill in the Required Information
When creating a pay stub with 123PayStubs, this is the information you will need to include:
Company information
Your company information will include your company name, Employer Identification Number (EIN), and company address. Your Employer Identification Number is the unique nine-digit number assigned to your business by the IRS.
Employee/Contractor Information
The information you will need is the employee's name, social security number, wage rate, hours worked, and filing status (single or married). This information can be pulled from the W-4 or W-9 that you had them complete upon being hired.
Pay Schedule Information
The information in this section includes your payment schedule, pay period start/end, payday, and stub number. It is important to create a payment schedule and stick to it. This will eliminate any confusion your employees have about payday and it will make creating your pay stubs easier
Review your Pay Stub
After you've completed entering in all of the required information on your pay stub template, you should review the paystub and check that all of the information is accurate. This is extremely important because the impact of even the smallest error could result in a long list of issues. Fortunately, making a correction online is far easier than on pen and paper. If all of the required information on your paystub is accurate then your payroll calculations will be accurate as well.
When you create pay stubs with 123PayStubs, your payroll calculations and deductions will be handled automatically. The days of crunching numbers are no more! Having your payroll calculations completed automatically will save you time and give you peace of mind knowing the calculations are accurate.
Keep a Record of Your Pay Stubs
Once you have previewed your finished pay stubs and are satisfied with them, 123PayStubs allows you to either download, print, or e-mail them directly to your employees and contractors. Being able to send pay stubs to your employees instantly is a huge benefit of using online pay stub generators. Your employees will no longer have to wait for checks to be distributed to them and make a trip to the bank to deposit their money.
Having your pay stubs stored online also makes for convenient record-keeping. When you use 123PayStubs, your previous pay stubs will be stored securely within your account.
Start Creating Professional Pay Stubs Today!
If you have the correct information and are using an online pay stub generator, creating the perfect pay stub is not difficult. 123PayStubs is an online pay stub generator that will help you create accurate and professional pay stubs in minutes and meet your IRS tax filing requirements with ease.