Online Pay Stub Generators: A Helpful Resource For Small Businesses
With the help of an online pay stub generator, your business can create professional and accurate pay stubs within minutes.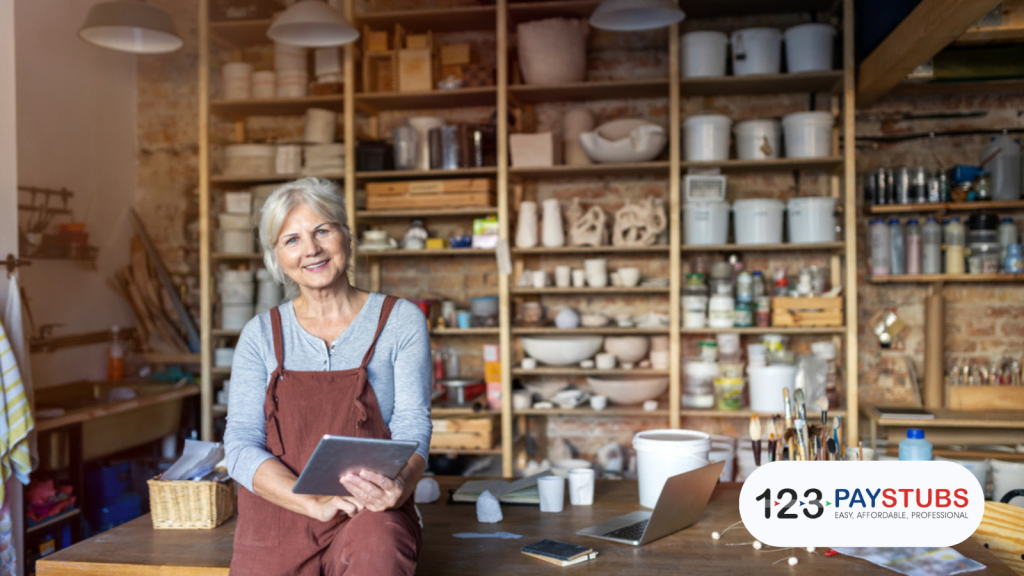 Running a small business can often bring on a lot of stress. Creating your business's payroll on your own can add to this stress greatly. Luckily, there are smarter solutions to handling payroll than doing it on your own. With online pay stub generators, business owners can take back control of their payroll and take advantage of the many benefits this software has to offer. 
Here at 123PayStubs, we are a small business ourselves, so we understand the specific needs of  YOUR small business. 123PayStubs is an online pay stub generator that offers several pay stub benefits designed specifically for small businesses. We can help your business create professional and accurate pay stubs with ease. 
What is a Pay Stub?
A pay stub is the part of a paycheck or a separate document that lists details about the employee's pay. It itemizes the wages earned for the pay period and year-to-date payroll information. It also shows taxes and other deductions taken out of an employee's earnings. And, the pay stub shows the amount the employee actually receives (i.e., net pay).
Why You Should Provide a Pay Stub
As an employer, a pay stub is useful for tax purposes, and it can be used to resolve any inconsistencies with employee pay.
For your employees, it provides a record of their wages, helps them understand their taxes, contributions, and deductions, and allows them to ensure they were paid correctly. It can also serve as a proof of income or employment for them, which is often required when applying for a loan or form of credit.
Using an online pay stub generator can help your small business save time and money. It will also reduce the stress of managing payroll on your own. Pay Stub creators help lessen the workload of generating pay stubs and allow small business owners to spend their time taking care of other important matters.
Here are some ways using an online pay stub generator could benefit your business:
Time-Saving
Pay stubs are a necessary part of payroll, so it's important to develop a system to quickly produce them. Spending all your time calculating pay stubs and running payroll is not beneficial for your small business. Instead of losing time completing administrative work, with an online pay stub generator, you can get back to focusing on important business decisions.
With 123PayStubs, employers and sole proprietors can make digital pay stubs in a matter of minutes. Our innovative software streamlines the payroll process making it quick and easy. 
One of the key benefits of using our pay stub software is that our system takes care of all of the formatting and calculations that go into creating pay stubs. You do not need to go through line-by-line and make the deductions on your own. Our easy-to-use paystub templates will handle all of the deductions and taxes for you. All you need to do is put in the correct data.
This will not only save you time but also ensure that your calculations are accurate. The original template you created as well as the intelligent, intuitive software of our online program helps to eliminate inaccuracies. This will help reduce any wasted time having to correct pay stubs and deal with employee complaints.
Money-Saving
Online pay stub generators will also save companies money. For small businesses, this is especially important. When using an online pay stub generator you can avoid having to bring in a professional to do the payroll or outsourcing the work to an outside company. Both of these options can become extremely pricey. Using an online pay stub generator will save you money that can be used to help grow your business.
123PayStubs allows you to access all the great features it has to offer at an affordable price. You can get your first pay stub for FREE and pay $3.99 from the second pay stub.
Customizable for Your Business
Using an online pay stub generator makes it easier to customize your pay stubs for each employee and pay period.
Pay Stubs are important documents in the business world, so, they should be of professional quality. 123PayStubs offers a wide variety of free pay stub templates that are both professional and modern. You can choose which template best suits the needs of your business and represents your company's aesthetic. You can even customize your pay stubs with your company's logo.
With 123PayStubs, you have the ability to fully customize your employee's pay stubs with the exact information that is needed. You can personalize each of your employee's pay stubs to include last year to date (YTD) values or add any additional income or deductions. You can also include FUTA and SUTA taxes if required.
Being able to customize your employee's pay stubs will be much easier on a computer/mobile phone than it would be on pen and paper.
Makes Pay Day More Manageable
As an employer and small business owner, we know you are always on the move. When it comes time for payday, you don't have time to spend all day creating checks, passing them out to employees, and dealing with payroll issues.
Online pay stub generators simplify the entire payroll process. Thus, not only is generating your pay stubs more efficient but actually paying your employees is too. With 123PayStubs as soon as you finish creating your pay stubs, you can download, print, or email them directly to your employees. You will also receive a payday reminder based on your preferences, so the days of forgetting payday are no more!
123PayStubs also has an easy-to-use mobile app. Our app helps to make the payroll process even more convenient. You can generate your pay stubs anytime, and anywhere while using the app. It is compatible with both android and IOS devices. 
So, whether you are handling payroll from your desk or on the go with your mobile device, the results will be the same. You will be able to generate and distribute your pay stubs within minutes.
Generate Pay Stubs with 123PayStubs in Minutes
123PayStubs is the perfect choice for those who handle and manage payroll on their own. You can generate professional and accurate pay stubs in 3 simple steps:

Enter- fill in the required information (company details, employee details, pay schedule info, etc.)
Preview- Choose your template, review the information you provided, and make any corrections.
Download and print your paystubs! You can even email them directly to your employee or contractor!

The first pay stub you make with 123PayStubs is on us!